Certificates and quality labels of independent institutes confirm the quality and safety of our services. They also confirm the fact that the strategy of operations we accept takes into consideration the priorities of our customers and satisfies their needs.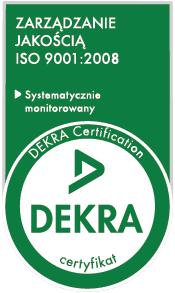 ISO 9001:2008 international quality certificate awarded by DEKRA certification body (2014 and 2015) – a prestiguous, internationally accepted and recognized award which confirms:
Implementation by Pol Mack Poland of the Quality Management System meeting international standards;
Effective and professional management of all the elements that impact the quality of company operations;
Provision of high-quality services.
Scope of certification: national and international transport of goods with the use of tractor trailers.

Purpose of certification: to declare commitment to the implementation, upkeep and constant improvement of the quality management system which will help us to achieve the goal of high-level satisfaction of Pol Mack Poland customers.

European Quality Label for Transport – a TCC quality certificate accepted across the European Union and awarded by the "Trans.eu Road Transport System" (2014). It confirms high-quality of services provided by Pol Mack Poland and recommends it as a reliable, trustworthy and well-organized company.